Pacific Growers
Blaine, WA
10,875 baskets could all be weighed and watered precisely at a glance
Pacific Growers started using the OASIS system by outfitting two acres with 15 OASIS hanging basket water-by-weight systems. Using the intuitive, full-color OASIS touchscreen, 10,875 baskets could all be weighed and watered precisely at a glance, without having to walk the range and hand-check random baskets.
Kevin Van Wingerden, grower at Pacific Growers, shares, "OASIS from Control Dekk really helped our crop quality by helping us attain an equal target weight after baskets were hung. Overwatering can be a big issue in mixed baskets like Calibrachoa, and we didn't have that issue using OASIS."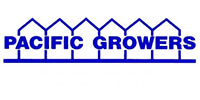 Pacific Growers is a wholesale grower specializing in geraniums, spring annuals, hanging baskets, fall mums, primroses, pansies, poinsettias, and much more. They also serve as a local retailer, which allows them direct customer interactions, helping them grow a better plant based on customer feedback and needs.
(616) 828-4862
LET US CREATE A CUSTOM AUTOMATED WATERING SOLUTION FOR YOUR GREENHOUSE
While we can't be all things to all people, we're committed to making our systems work for you and providing top-notch customer service along the way.