Game-Changing Greenhouse Irrigation Solutions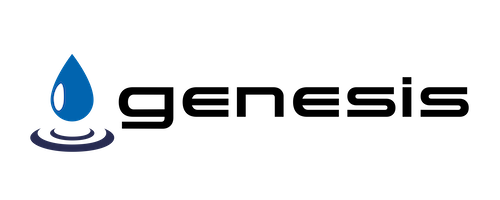 GENESIS by Control Dekk is the latest industry technology for customizable and precise automated boom irrigation.
Get Started with a Custom Solution
Water on demand, at hour or minute time intervals, VPD thresholds, light interrupt intervals, and at specific night- time/ day-time watering percentages
Select specific valves to water and at specific times
Set up specific watering parameters based on crop ("recipes")
Easily add and adjust specific crop sections with their own specific watering "recipe"
Choose watering speed for each crop
Select between 4", 10" or 12" touch screens and where they're located
Customize boom and valve names for what makes sense in your greenhouse
Fast collision detection with automatic shut-off
Adjustable and accurate start/stop points so that you can fit more plants on the bench or floor without needing to leave gaps
10" and 12" touchscreens allow for quick and easy adjustments right there in the greenhouse
Integrates on any boom system, uses environmental control systems for VPD, and controls light interrupt intervals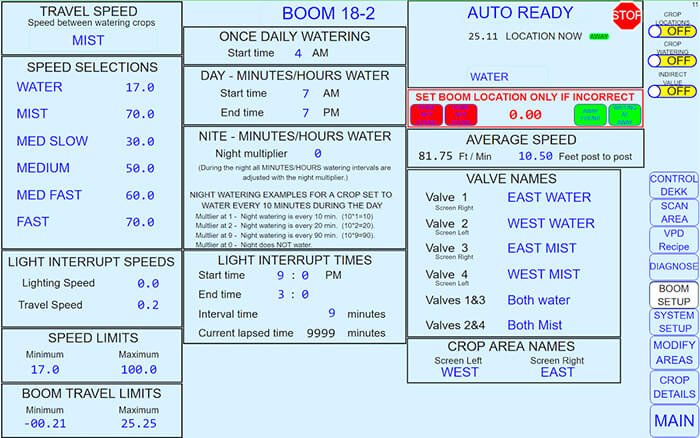 Touchscreen capture showing all customizable options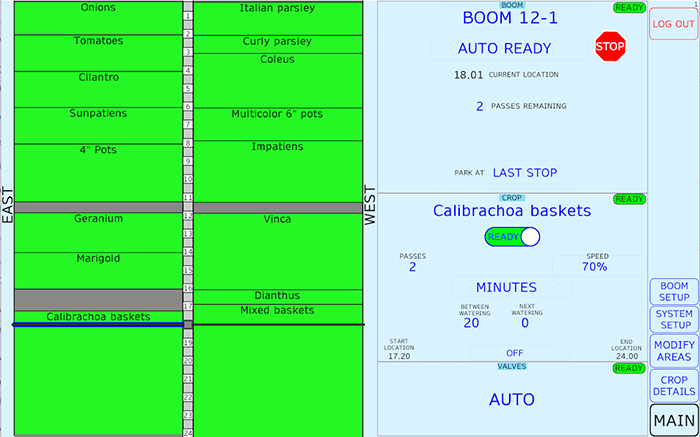 Main screen showing crops and boom settings
DON'T JUST TAKE OUR WORD FOR IT
Trialed and trusted by growers just like you.
"GENESIS is like having another employee who shows up on time and can do the work of a few people in half the time. With GENESIS, we program everything down to the number of passes and speeds to make sure that we are delivering the right amount of water."
– Hugh Kurtz, Kurtz Farms
"The GENESIS system is very user friendly, allowing me to maximize greenhouse space. It's proven to be the most reliable system we've ever used from irrigation stage to a finished crop.
We could count on its accuracy and adjustability in the high heat and humidity of the propagation stage throughout the heat of summer. Added bonuses are the ability to make adjustments remotely when I'm away from the greenhouse and the accurate alarm system that's saved crops from damage when booms had mechanical issues after hours."
– Nick, Henry Mast
1. Let's Talk
Share details about your greenhouse and needs, and we'll discuss what GENESIS configuration makes the most sense. We'll send you a custom quote and GENESIS specifications tailored to your unique situation.
2. Installation*
Once you've ordered your system, you can follow our easy step-by-step guide included with the product and then work with our team directly to program your lines for the ideal basket weight for your specific crops.
3. Evaluation
See the savings and benefits add up as you go through your season with GENESIS. Adjust the program as necessary to achieve your highest quality crop of hanging baskets yet.
(616) 828-4862
LET US CREATE A CUSTOM AUTOMATED WATERING SOLUTION FOR YOUR GREENHOUSE
While we can't be all things to all people, we're committed to making our systems work for you and providing top-notch customer service along the way.