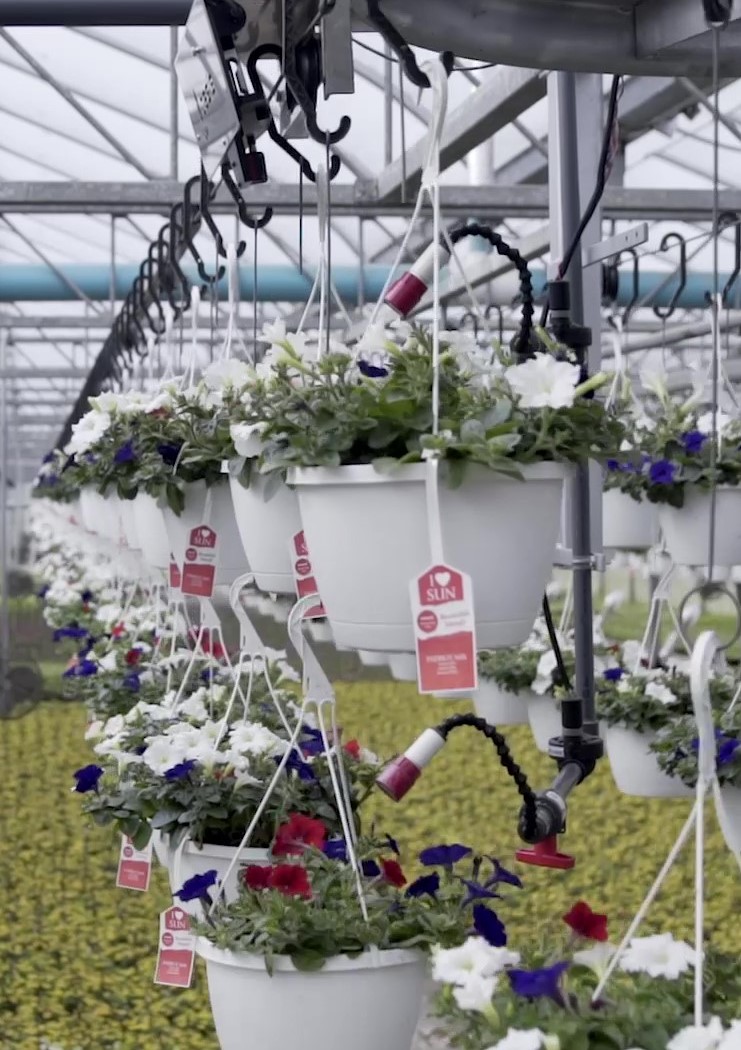 ---
SUPERIOR HANGING BASKETS
The precise watering of OASIS can improve hanging plant quality and eliminate crop loss. In addition, precision watering of overhead baskets can eliminate the negative impact on the plants and floor below the basket watering area.
---
---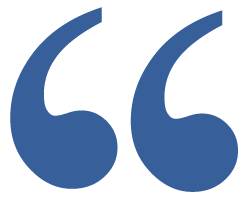 "Countryside Greenhouse has been extremely satisfied with the OASIS water system. Knowing that each basket is going to be watered exactly the same weight takes a lot of stress off the grower! Because of the consistency of the system, Countryside has had zero crop loss. The control panel is extremely easy to understand and operate."
Matt Vissers | Countryside Greenhouse
---
---
REDUCED GROWER LABOR
OASIS' weighing feature eliminates the need for growers to manually test basket weight. This greatly reduces manual labor and allows growers to focus on other areas of production and be responsible for more lines.
---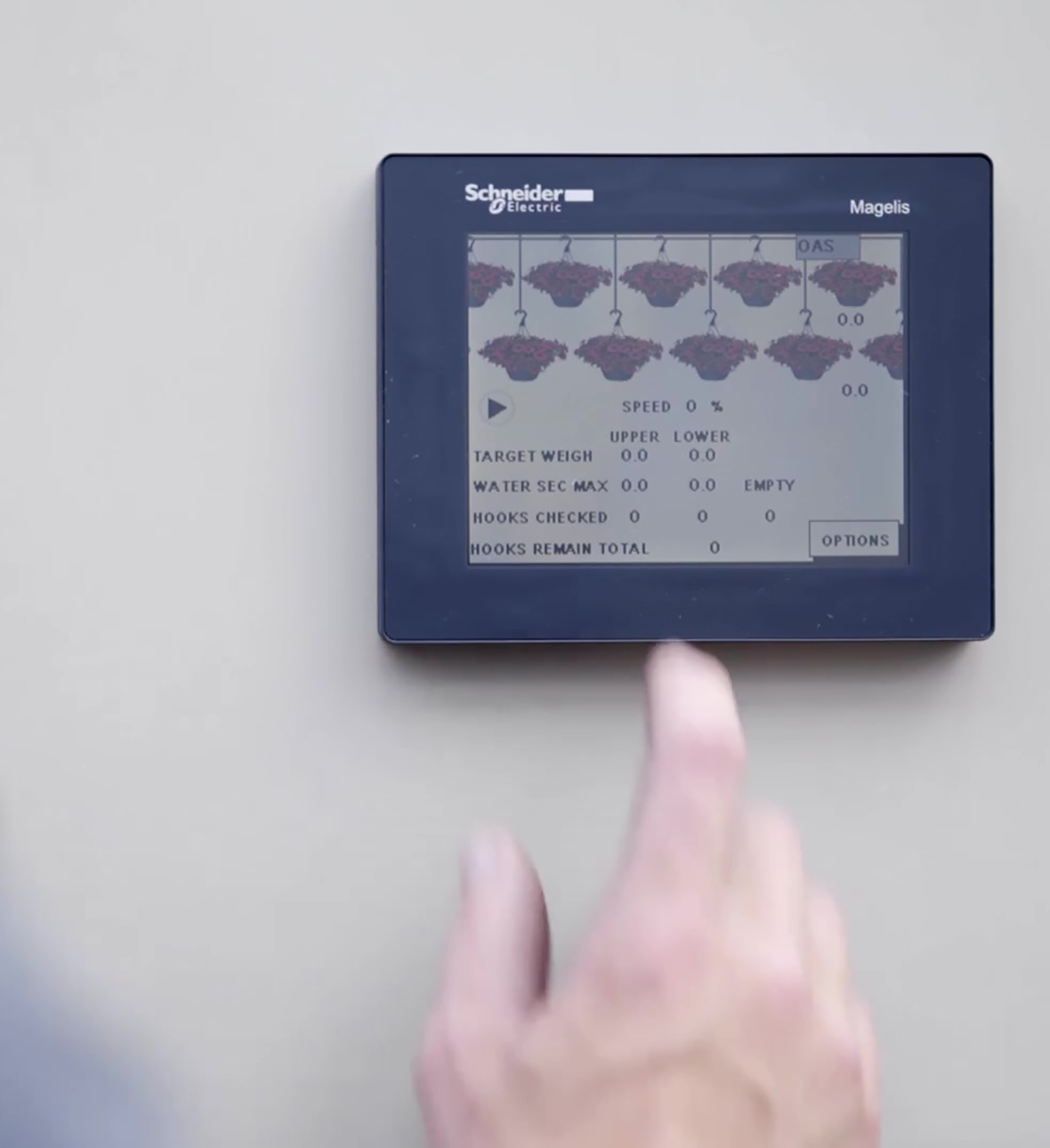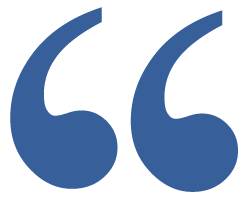 "After a trial of one OASIS at the end of our 2016 season, Bloemenberg Growers installed OASIS on all Echos and Boomerangs in our facility. During the 2017 season, my labor as a grower was greatly reduced as a result of using OASIS. The plant quality was great and uniform. Now, I can't imagine growing without it."
Jason DeGroot | BLOEMENBERG GROWERS
---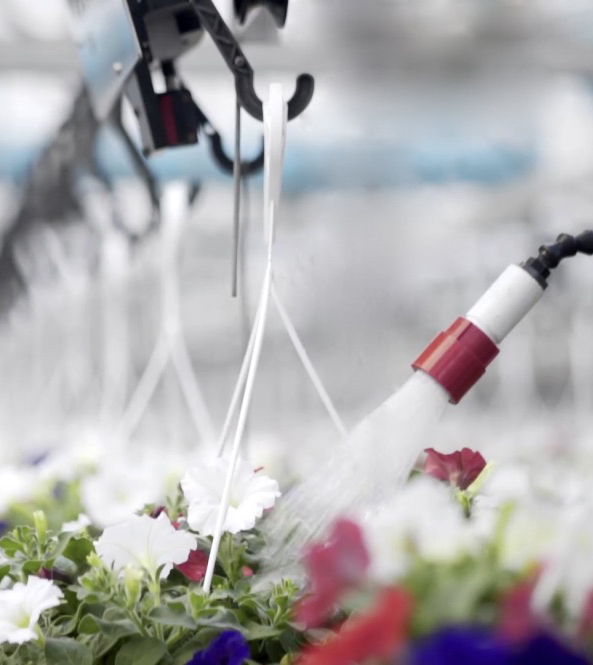 ---
LESS WATER, CHEMICALS & ENERGY
OASIS waters precisely to reduce the costs of water, treatment chemicals, fertilizers and growth regulators. In addition, growers may also realize energy and maintenance savings associated with the filtration and pumping of water.
---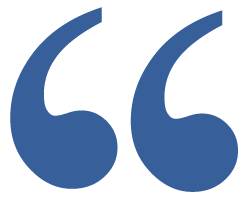 "We at Barry's Ground Cover LLC are extremely happy with the OASIS watering system! It takes the guessing out of watering – simple and accurate. I would highly recommend the OASIS system."
Barry Stiffler | BARRY'S GROUND COVER
Custom
SPECIFIC TO YOUR GREENHOUSE
Precision soil moisture control
Accurate and repeatable basket identification (No tabs or mechanical switches)
Exceptional speed control
Easy to use touch screen for all functions
Each OASIS system is complete using a standalone controller for either three or four basket lines.
Together, we design a system, controlling any number of basket lines, that best fits your facility. OASIS functions  can be added or customized to fit your specific needs. OASIS can be linked to third party environment controls.
Flexibility to add networking and/or wireless access at any time.
Together, we design and install the networking and/or wireless access solutions that best fit your facility.
Easy installation using the clear instructions that are provided.
Purchasing new basket lines?
Both Cherry Creek and GTI sell their basket lines at a reduced cost if they are ordered without tabs, tab switches, controllers and motors. We recommend that you contact Control Dekk before ordering basket lines from your preferred supplier. We will always work with your supplier so that you get only what you need and at the best price.
---