Our Story
Jordan and Jared Dekker are co-owners and growers at Dekker Brothers Greenhouse in Hudsonville, MI. They met Len Logsdon in 2013 when Len was developing a customized greenhouse control system for the pair. Throughout the course of that first project together, Jordan and Jared would often lament, "There has got to be a better way to manage and control watering on overhead basket lines."
Frustration and necessity breed creativity, and that question sparked the idea of a product that would automatically water hanging baskets to the grower's ideal basket weight. Len got to work putting his decades' experience in controls engineering and working with greenhouses to develop a plan for an electro-mechanical module that could be easily added to new or existing overhead greenhouse basket lines. The module would weigh and water baskets to a specific soil moisture content set by the grower and streamline hanging basket irrigation with precision and consistency.
The first successful prototype was developed after much brainstorming, discussion, and research, and over the next three years, that initial prototype gave way to three more. Each prototype incorporated fixes and improvements and was trialed by the brothers themselves. The results each and every time were amazing – enough to make Jordan, Jared, and Len realize that this was a product that could revolutionize how growers grow hanging baskets.
The final production model featured the best of the best of all the prototypes and was sent to several other west Michigan greenhouses to be trialed. The OASIS module passed with flying colors, converting growers from the old way of watering by time to the improved water-by-weight OASIS system.
The Control Dekk team has stayed small, but the power of a good idea and a product that works keeps us committed to performing above and beyond for our customers. We developed the OASIS system to help growers, eliminate stress, and increase plant quality. That's what we're committed to today and always.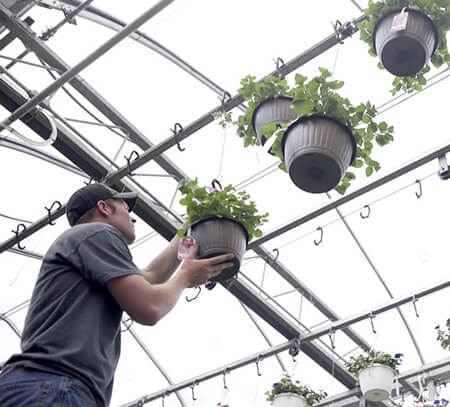 Jordan Dekker
Jordan is the managing partner at Control Dekk where he is involved in all aspects of business management. He is also well-versed in sales and interfaces with customers on multiple levels. Jordan sources various raw materials and is involved in module and control panel assembly. He is also Vice President of Dekker Bros. Farms, which he manages with his brother, Jared. Jordan has over 20 years' experience in the horticulture industry.
Fun fact: Jordan and his family live on a hobby farm where one group activity is making maple syrup in their very own sugar shack.
Jared Dekker
Jared was instrumental in Control Dekk's startup, and he continues to be involved with various aspects of business management. He provides crucial suggestions, ideas and feedback from a grower's perspective on product design and development and marketing. Many of his suggestions have been implemented in these areas. Jared is also President of Dekker Bros. Farms which he manages with his brother, Jordan. Jared has over 20 years' experience in the horticulture industry.
Fun fact: Jared is an archery aficionado and is overall an outdoorsy guy.
Len Logsdon
Len is a Controls Engineer and Master Electrician with extremely strong mechanical knowledge and skills. He possesses over 30 years of experience in the automation industry with over 20 of those years serving the needs of greenhouses in southwestern Michigan. Len's expertise and talent are responsible for the development of the OASIS system, which he designed to relieve growers of stress and the time constraints of inefficient watering. He has developed several OEM products in addition to OASIS, including a pumping station for irrigation control still used at various universities, golf courses, and businesses throughout Michigan. He's also responsible for greenhouse environmental and watering boom controls. At Control Dekk his main focus remains product design and development. He is also involved in many aspects of business management, sales, and onsite installation assistance.
Fun fact: Len moved from his hometown of Keokuk, Iowa to Michigan to attend the Grand Rapids School of Bible and Music.
RUSS RUSSELL
Russ transitions to Control Dekk bringing with him broad work experience. From mechanical in power transmission and various forms of management, to sales-focused customer interfacing, his experience and knowledge fit well with Control Dekk's desire to provide high quality products and customer service. He learns quickly and has what it takes to help Control Dekk continue to grow as a company. Russ is the father of five grown sons and enjoys spending time with his family.
Fun fact: Russ holds a degree in criminal justice from Grand Valley State University.
Sheri Logsdon
Sheri is the star behind the scenes at Control Dekk, helping with all things accounting, marketing, and jumping in wherever she is needed. Customers recognize Sheri as the friendly, thorough, and helpful voice when they call Control Dekk, and Sheri's insights and customer interactions continuously help us improve. Her consistent and steady approach helps keep Control Dekk's focus on what matters most: providing products and service that benefit our customers and solve their problems easily and efficiently.
Fun fact: Sheri was a collegiate volleyball athlete at Montana State University.
"GENESIS has proven to be the most reliable automated boom irrigation system we've used from irrigation stage to a finished crop."
- Nick, Henry Mast
"After a trial of one OASIS at the end of our 2016 season, we installed OASIS on all Echos and Boomerangs in our facility. Now I can't imagine growing without it."
- Jason DeGroot, Owner/Head Grower | Bloemenberg Growers Inc.
"The accessibility of the people at OASIS and the user friendliness of the interface are the two key points for me."
- Zach Smith, Operations Manager | Hood's Gardens
"OASIS basket watering systems are worth the investment to ensure product quality, productivity, and reduced stress in my life."
- Dale Buist, Owner | Countryside Greenhouse
"We're extremely happy with the OASIS watering system! It takes the guessing out of watering -- simple and accurate."
- Barry Stiffler, Owner | Barry's Ground Cover
"OASIS by Control Dekk really helped our crop quality by attaining an equal target weight after baskets were hung."
- Kevin van Wingerden, Grower | Pacific Growers
"IT REALLY WORKS!"
- Andy Buist, Owner/Head Grower | Micandy Gardens
"The baskets using OASIS are absolutely beautiful and noticeably stunning. You'll see a noticeable difference in your crop guaranteed."
- Zach Smith, Operations Manager | Hood's Gardens
"Quality has improved for baskets as well as for our floor crops underneath -- I am really enjoying this system!"
- Evan Schnabel, Head Grower | Hood's Gardens
(616) 828-4862
LET US CREATE A CUSTOM AUTOMATED WATERING SOLUTION FOR YOUR GREENHOUSE
While we can't be all things to all people, we're committed to making our systems work for you and providing top-notch customer service along the way.