Automated Greenhouse Irrigation Technology
Like Henry Ford changed manufacturing and Michael Jordan changed basketball, we're changing how greenhouses irrigate their crops with unprecedented results.

Automated Hanging Basket Irrigation
Water efficiently and without hassle with our ground-breaking automated hanging basket irrigation that waters entirely by weight based on your crop and its needs.

Automated Boom Irrigation
Entirely customizable and the most efficient you'll find on the market, GENESIS automated boom irrigation takes the hassle and headache out of bench and floor boom irrigation.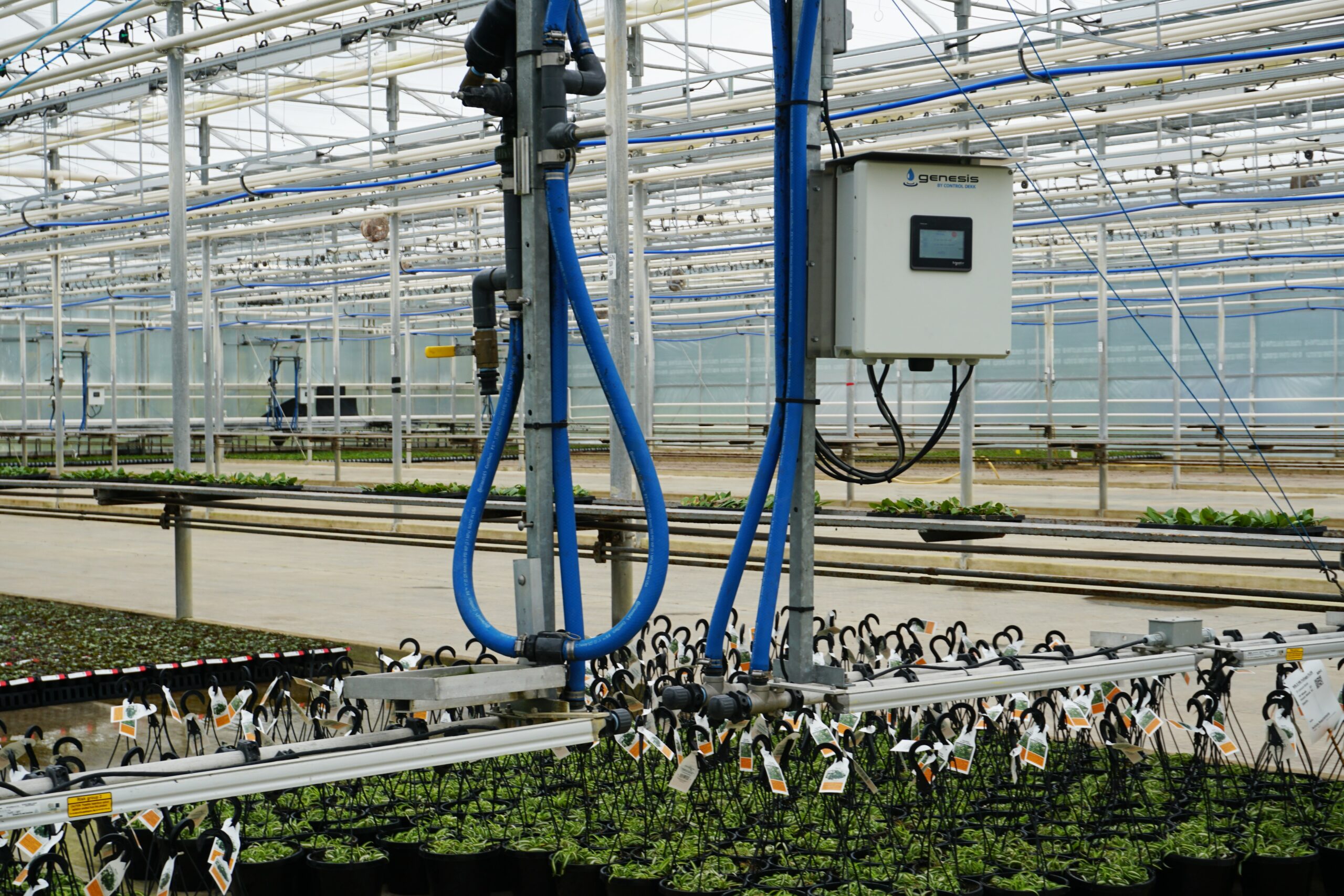 Happy Customers, Happier Crops
"The OASIS system is the best by far; it's flawless."
– Jake Tebos, Grower | Tebos Greenhouses Inc.
"There is water savings, but it's more that we're doing the right thing for the environment and for our crops."
– Hugh Kurtz Jr., Owner/Head Grower | Kurtz Farms
"GENESIS has proven to be the most reliable automated boom irrigation system we've used from irrigation stage to a finished crop."
– Nick, Henry Mast
"After a trial of one OASIS at the end of our 2016 season, we installed OASIS on all Echos and Boomerangs in our facility. Now I can't imagine growing without it."
– Jason DeGroot, Owner/Head Grower | Bloemenberg Growers Inc.
"GENESIS is like having another employee who shows up on time and can do the work of a few people in half the time."
– Hugh Kurtz | Kurtz Farms
"The accessibility of the people at OASIS and the user friendliness of the interface are the two key points for me."
– Zach Smith, Operations Manager | Hood's Gardens
"OASIS basket watering systems are worth the investment to ensure product quality, productivity, and reduced stress in my life."
– Dale Buist, Owner | Countryside Greenhouse
"We're extremely happy with the OASIS watering system! It takes the guessing out of watering — simple and accurate."
– Barry Stiffler, Owner | Barry's Ground Cover
"OASIS by Control Dekk really helped our crop quality by attaining an equal target weight after baskets were hung."
– Kevin van Wingerden, Grower | Pacific Growers
"IT REALLY WORKS!"
– Andy Buist, Owner/Head Grower | Micandy Gardens
"The baskets using OASIS are absolutely beautiful and noticeably stunning. You'll see a noticeable difference in your crop guaranteed."
– Zach Smith, Operations Manager | Hood's Gardens
"Quality has improved for baskets as well as for our floor crops underneath — I am really enjoying this system!"
– Evan Schnabel, Head Grower | Hood's Gardens
(616) 828-4862
LET US CREATE A CUSTOM AUTOMATED WATERING SOLUTION FOR YOUR GREENHOUSE
While we can't be all things to all people, we're committed to making our systems work for you and providing top-notch customer service along the way.