Do I give my baskets the right amount of water? It is a big guess for many growers and inspired Michigan growers Jared and Jordan Dekker of Dekker Brothers Greenhouse in Hudsonville. Together with Len Logsdon, they designed a watering solution for hanging baskets by using the weight as starting point. The solution is named the Control Dekk OASIS and can be installed on new or existing greenhouse cable conveyors.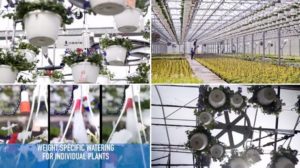 Water, water, water..
Jared and Jordan are growers themselves and, as water is a vital component of a grower's business, watering was on their mind throughout the entire day. "There was actually no perfect solution that would give us peace of mind. If we use an automated system that waters on time, we always had the risk of over or under watering some baskets and watering them manually is a very labor intensive and time consuming job", says Jared.
Control Dekk OASIS
In order to water the plants uniformly and to have more peace of mind, the Dekker brothers came up with an idea to water their baskets by using their weight as a starting point. Together with Len Logsdon they designed and patented and automated product, named the Control Dekk OASIS. It is a 5" x 7" x 18" module that weighs 8 pounds and is constructed of stainless steel and enhanced UV-stabilized polymer for durability. But how does it work? "First of all, it needs to be installed on new or existing greenhouse cable conveyors. Then, the grower sets the pre-determined weight desired for correct plant watering via local controller, office PC or mobile device. Afterwards, as each basket passes through the OASIS module, its weight is being determined. Finally, the smart controller opens the proper water valve for only the time necessary to achieve the grower's target basket weight."
A smart controller and a local user interface allows the grower to control and monitor the basket line at the conveyor while a single, remote graphical interface is used to provide enhanced functionality for multiple lines from an office PC or wirelessly, using a smart phone or tablet. In this way, each basket is receiving exactly what it needs.
Saves over 50 percent of water
According to Jared, this solution is a real game changer as it will not only give the grower peace of mind, it will also improve the crop and reduce the use of water.
"It saves over 50 percent of water and as a result reduces the waste of chemicals like regulators and pesticides."
Growers embracing it
The Control Dekk OASIS was launched last year and since the introduction, they received requests from growers all over the US and Canada. Now, one year later, the growers are pleased with the product and are coming back for more. "Many who already use the OASIS want to outfit their entire greenhouse with it, and mainly because the peace of mind they have been able to achieve."

Original article from Floral Daily here.