Automated System Changes the Game of Hanging Basket Irrigation
Where growers once watered by hand and then transitioned to automated watering by time, this innovative system takes it one step further by watering hanging baskets by weight. The product, in this case, is the OASIS hanging basket irrigation system designed by Control Dekk, a greenhouse automation company based in western Michigan. They introduced the first system in 2016, which they supplied to growers in their own state and by word-of-mouth demand arose nationwide. They participated for the first time in Cultivate'19 and will now feature their system at Cultivate'20 Virtual, July 13-16, as well.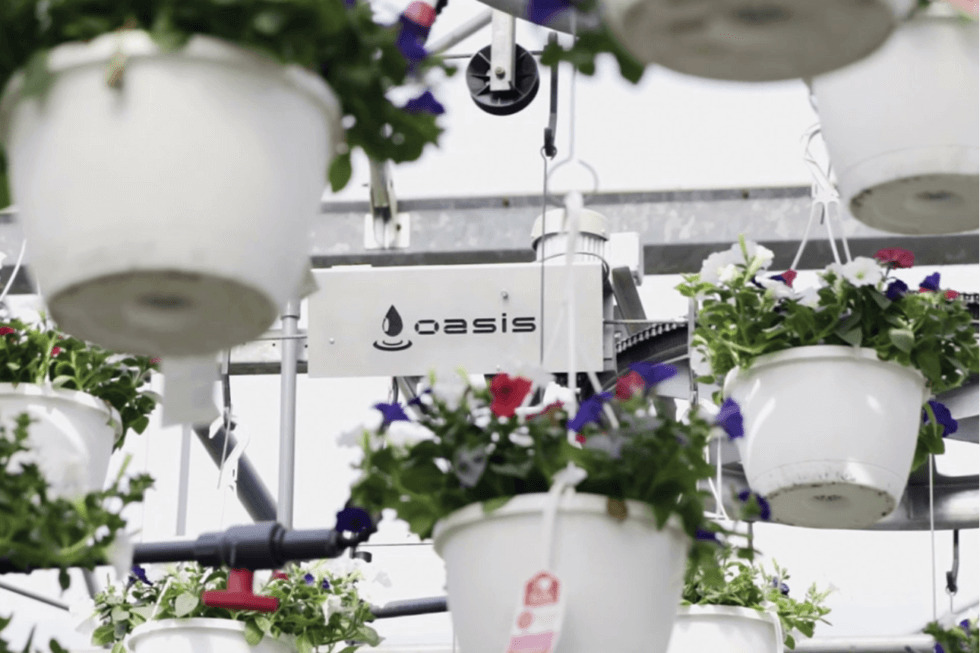 Automated system that waters by weight
Control Dekk's OASIS automated system is changing the game when it comes to hanging basket irrigation as it uses the weight of each basket to determine the water to be added. "Watering by a specific soil moisture content set by the grower gives growers more control over the consistency and quality of their hanging basket crops while also saving a great deal of time. Ensuring that baskets only receive the amount of water they need and if they need it also means that water and chemicals are conserved", explains Controls Engineer Len Logsdon.
Positive reactions
The first product was introduced in 2016 and the reactions were positive right away. Jason DeGroot, owner and head grower at Bloemenberg Growers in Allendale, MI, shares, "After a trial of one OASIS at the end of our 2016 season, Bloemenberg Growers installed OASIS on all Echos and Boomerangs in our facility. During the 2017 season, my labor as a grower was greatly reduced as a result of using OASIS. The plant quality was great and uniform. Now, I can't imagine growing without it."
Can be installed on existing conveyor lines
The OASIS system installs easily on new or existing Echo, Boomerang, or FormFlex lines, explains Logsdon. "The OASIS module housing is constructed of a stainless-steel structure and UV-rated stabilized polymer insert for longevity and durability in tough greenhouse conditions. The entire module is compact (7"x18"x6"), making it easy to install on existing conveyor lines without needing much extra space. The module contains the Smart Optics sensor and component board, which works with existing irrigation systems to control how much water each basket receives."
How it works
The patented Smart Optics sensor and force sensor work together to determine if there is a basket present and whether the basket is an upper or lower basket. As the basket passes through the sensors, the weight is determined, and the basket is automatically watered to the ideal weight programmed by the grower. "The sensors eliminate the need for tabs on basket hooks, as well as the need for mechanical switches. Less parts means less maintenance and need for repairs or replacements down the road", he adds.
Control panels
Control panels for the system are enclosed in durable corrosion-resistant and dust- and water-tight fiberglass that can be easily mounted in any desirable location close to conveyor lines. "All components are UL listed, industrial rated, and almost entirely Schneider Electric brand for superior durability, quality, and peace of mind." Control panels include a programmable logic controller, variable speed AC controllers, and a color touchscreen (6" or 10") that allows the user to intuitively program the OASIS system and gain at-a-glance data on basket weights, irrigation needs, inventory, and more.
Customized to nearly any greenhouse situation
"The OASIS system can be customized to nearly any greenhouse situation, and the Control Dekk team is committed to making their system work for growers while providing top-notch customer service along the way", Logsdon concludes.
Cultivate'20
Eager to learn more about the OASIS system? Visit Control Dekk at Cultivate'20 Virtual that will be held from July 13-16, 2020. Can't wait till that time, check their website.